Saving Scotland's Red Squirrels has published the results of its 2018 annual survey, which indicate that while most of Scotland's red squirrel populations remain stable, populations in southern Scotland remain under threat.
Since 2011, Saving Scotland's Red Squirrels has been monitoring squirrel populations in the parts of the country where red squirrels are most threatened by the spread of non-native grey squirrels. Grey squirrels, which were introduced to Britain from North America in the 19th Century, out-compete red squirrels for resources, and can also carry squirrelpox, a virus that doesn't harm them but is deadly to reds.
Previous survey results have indicated that red squirrel populations in the project's focal areas had stabilised, a sign that with continued effort from conservationists and volunteers, the decline of Scotland's core red squirrel populations can be halted. 2018's survey results again make optimistic reading regarding the future of red squirrels in North East Scotland and the Central Lowlands.
In southern Scotland, however, while the proportion of survey sites detecting red squirrels has remained constant, the number of sites with a grey squirrel presence has significantly increased, suggesting that grey squirrels are continuing to move into what was previously "red only" territory.
Although red and grey squirrels can live side by side for a short period of time, in most wooded landscapes, grey squirrels will typically replace red squirrels within a few years unless efforts are made to reduce their numbers. When squirrelpox is present this process can be far more sudden and rapid – an infected red squirrel population can be wiped out within weeks.
Protecting red squirrels in South Scotland is challenging because grey squirrels are spreading south from the Central Belt and north from across the border. Grey squirrels also favour broadleaved trees such as oak and beech, which are more common in South Scotland's woodlands.
Saving Scotland's Red Squirrels' work in South Scotland is focused on the most defendable red squirrel populations. Encouragingly, red squirrels are still found in many areas where the project has been working alongside land managers, with the support of rural development grants and local volunteers; including the Annan Valley, Glenkens, the Upper Tweed and in the catchments of the rivers Teviot, Rule and Liddle.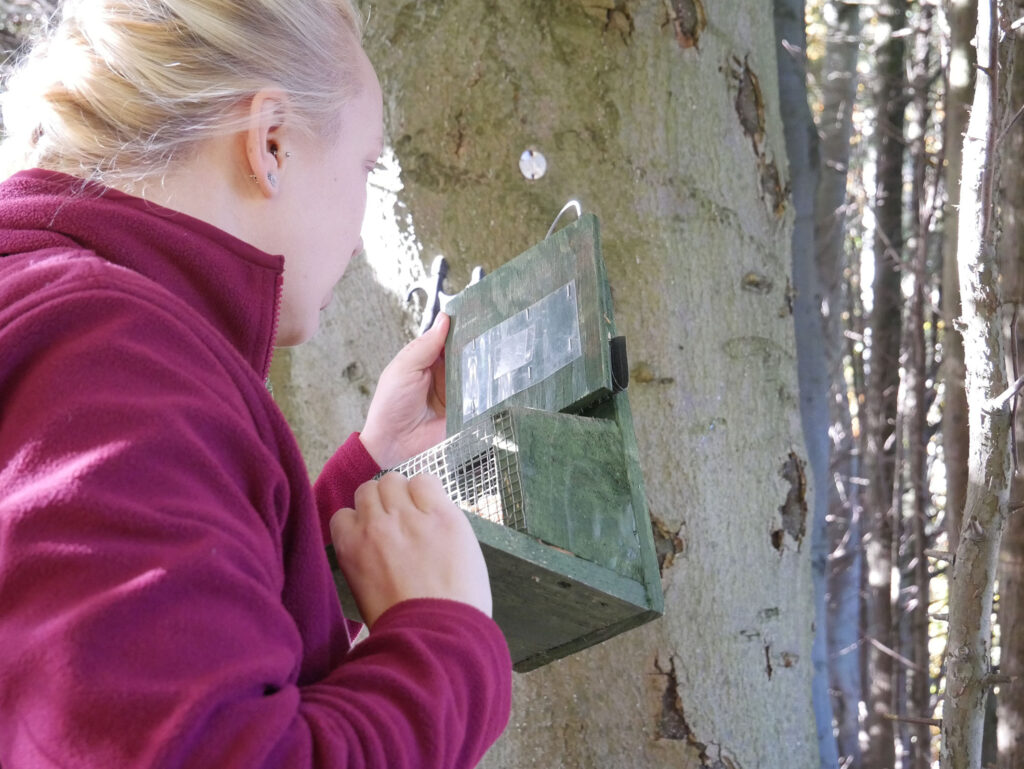 The most positive survey results were found in North East Scotland, where red squirrels continue to expand their range, particularly around Aberdeen. Project staff are optimistic that with continued effort grey squirrels can eventually be completely removed from the region, which would enable red squirrels to fully recolonise the city and at the same time remove a major threat from the important red squirrel populations in Grampian and the Highlands.
The North East results are complemented by those from the Central Lowlands. Here red squirrel range has been maintained, indicating that the National Lottery-funded project is successfully protecting Scotland's largest red squirrel population north of the Highland Boundary Line.
Dr. Mel Tonkin, Saving Scotland's Red Squirrels Project Manager said: "Grey squirrels have continued to spread in some parts of southern Scotland, particularly in the eastern Borders and in the Nithsdale area of Dumfriesshire. It is vital that the work we do in priority areas is stepped up to make sure that the red squirrel populations in these areas remain healthy."
Dr Stephanie Johnstone, Red Squirrel Conservation Officer for South West Scotland added: "While the region faces considerable challenges, the south of Scotland is still home to healthy red squirrel populations.
"Fortunately there is a lot of community support for the work that we do, and local volunteers and landowners are playing a vital role in efforts to keep grey squirrel numbers low in target areas. In response to the increased threat of grey squirrels in the Nith Valley we are working with local landowners who are rallying to the cause to protect their red squirrels."
Squirrel populations are surveyed using feeder boxes placed in the same areas of woodland each spring. When a squirrel visits a feeder box, a sticky tab collects some of its hair, which can then be identified under a microscope.
The 2018 Squirrel Survey report can be viewed at scottishsquirrels.org.uk/publications