2020 was a year of change for many, and for Saving Scotland's Red Squirrels, we were fortunate enough to welcome in new members of the team while overcoming the challenges of covid-19. Having worked from home since starting their roles, we wanted to take the opportunity to bring forward the newest faces of SSRS from behind their computer screens and give them a proper introduction.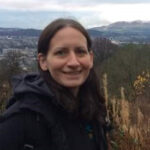 Dr Lucy Lush: Assistant Project Manager
Lucy is the latest addition to the SSRS team and is working closely alongside our Programme Manager, Dr Mel Tonkin, to oversee our project operations across Scotland. Lucy joins the team with a varied background as a wildlife biologist carrying out research in mammal ecology and behaviour both in Australia and the UK, as well as, working as project manager on various conservation projects within the environmental sector. Once re-opened, Lucy will be based out of our headquarters in Leith.
Contact: llush@scottishwildlifetrust.org.uk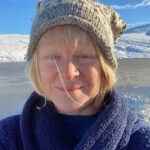 Victoria Chanin: Assistant Conservation Officer for South West Scotland
Victoria may be a familiar face having previously joined the team in 2019 as an Administrative Assistant, and from June started her new role as Assistant Conservation Officer. When she is not busy saving red squirrels, Victoria works as a Freelance Ecologist, undertaking bat surveys, badger, amphibian, butterfly and botanical surveys. Victoria will be joining the South West team from Dalbeattie in Dumfries and Galloway once restrictions ease.
Contact: vchanin@scottishwildlifetrust.org.uk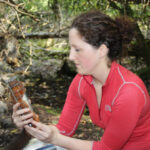 Dr Emma Sheehy: Conservation Officer for North East Scotland
Emma joined us in April as our new Conservation Officer for North East Scotland, as a highly experienced red squirrel and pine marten researcher. Since starting the role, she has been focusing on the eradication of Aberdeen's urban grey squirrel population, returning reds to the parks and gardens of Aberdeen and halting the spread of grey squirrels in South Kincardineshire. Emma will be based out of one of our project partner offices in the City once restrictions ease.
Contact: esheehy@scottishwildlifetrust.org.uk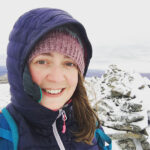 Katie Berry: Project Administrator
Katie came into post just as the initial lockdown began in March and has been providing support to the whole SSRS team, partners, stakeholders and volunteers right across Scotland as our Project Administrator. Katie joined us from the National Trust for Scotland, working in a similar role at Newhailes House & Gardens in Musselburgh. Although currently working from home, Katie would normally be based in our headquarters in Leith.
Contact: kberry@scottishwildlifetrust.org.uk
But that's not all, we also welcomed a number of Grey Squirrel Officers to our South West, Tayside and Argyll, the Trossachs and Stirling project areas who have had a critical role to play during a 'boom year' for the species.
Looking ahead for 2021, we have a very exciting opportunity to join the Saving Scotland's Red Squirrels team, as well as volunteer vacancies which we've listed below. To find out more about our scurry, visit the team contact page or take a look at what's happening in your area.
Work with us
Conservation Officer
Location: Dumfriesshire (home-working possible)
Region: South West Scotland
Contract: Fixed term until March 2022
Closing Date: Thursday 11th February
We are currently looking for a conservation officer to implement the project in the South West of Scotland to protect red squirrels in priority landscapes from replacement by grey squirrels and Squirrel Pox disease and support the targeted volunteer community and landowner networks to engage actively in red squirrel protection.
Volunteer with us
Grey Squirrel Dispatcher (Tayside)
Location: Tayside, within the Highland Line – Specifically Crieff, Dunkeld, Blairgowrie
We are working to prevent the invasive non-native grey squirrel from replacing red squirrels north of the Highland Line. Grey squirrel control is delivered by a combination of project staff, landowners funded via the Forestry Grant Scheme, and volunteers. We are looking for further help anywhere within the Highland Line but particularly in Crieff, Dunkeld and Blairgowrie to support existing volunteers by providing a much needed on-call dispatcher service.