Dr Peter Garson, Chair of the Gatehouse Squirrel Group, has been recognised as this year's Species Champion in the Scottish Wildlife Trust's Trustees' Awards for Volunteering. Giuliana Sinclair, Community Engagement Officer for South West Scotland discusses how this award not only celebrates Peter's immense dedication and drive but also stands as an inspiration to volunteers and communities across Scotland uniting to play their crucial role in conserving local red squirrels.
We couldn't save Scotland's red squirrels without the generosity and determination of our volunteers and we continue to be inspired every day by the work that local red squirrel groups undertake on the ground.
Peter Garson became involved with SSRS in 2015 when he founded the Gatehouse Squirrel Group. In his role as Chair, Peter is responsible for coordinating all volunteer efforts undertaken by the group, from surveys to targeted grey squirrel control. These efforts have been fundamental to the protection of local red squirrels from continuous incursions by the non-native grey squirrel and the effect of squirrelpox, the lethal virus that greys carry.
The group is working to raise awareness of the plight of the red squirrel and inspire others to take action in and around Gatehouse through social media and public engagement. Over 20 households undertake monthly garden counts, which encourage people to take a close look and enjoy their visitors on a daily basis. This is a simple citizen science project which allows the group to follow the trend in their local population.
Peter has also raised considerable funds for the group and forged a relationship with Cream O' Galloway as a local sponsor through which the public can donate to the cause. His efforts have equipped the group with two thermal imaging scopes and 14 camera traps, greatly increasing its survey and surveillance capability.
In 2018 Peter was asked by SSRS to found the Red Squirrel Forum for South Scotland as the umbrella organisation run by volunteers for all the volunteers in the squirrel groups and networks (now 18 with around 350 members) in South Scotland. The Forum acts as a bridge with other red squirrel organisations in the UK, helping to keep the red squirrel conservation work done in South Scotland in line with practice across the country.
To encourage collaboration across the Forum, Peter developed an 'Offers and Needs Chart' featuring around 20 activity types and all the groups. This is designed to encourage the exchange of advice and the establishment of trainer-trainee partnerships across the groups, in order to make best use of the skills many groups already have. The Chart gives groups full visibility of where expertise lies as well as who is asking for help on what.
As the Forum covers such a wide area, even before Covid-19 struck, get-togethers were difficult, as well as being time consuming and expensive. The current restrictions prompted a digital response and Peter has chaired three region-wide online meetings with almost all the squirrel groups represented.
At its inception, the Forum was seen as a vehicle for obtaining grant-funding at scale and for the good of all. This summer Peter spearheaded a successful application to the Red Squirrel Survival Trust to equip any group lacking them with a thermal imaging scope and up to ten camera traps. This game-changing grant will make monitoring surveys more robust, grey squirrel control more effective and public engagement activities even more captivating, right across South Scotland.
These initiatives by Peter at Forum level already go some way towards ensuring that community-led squirrel conservation work will continue uninterrupted beyond the end of the current phase of the SSRS project in March 2022.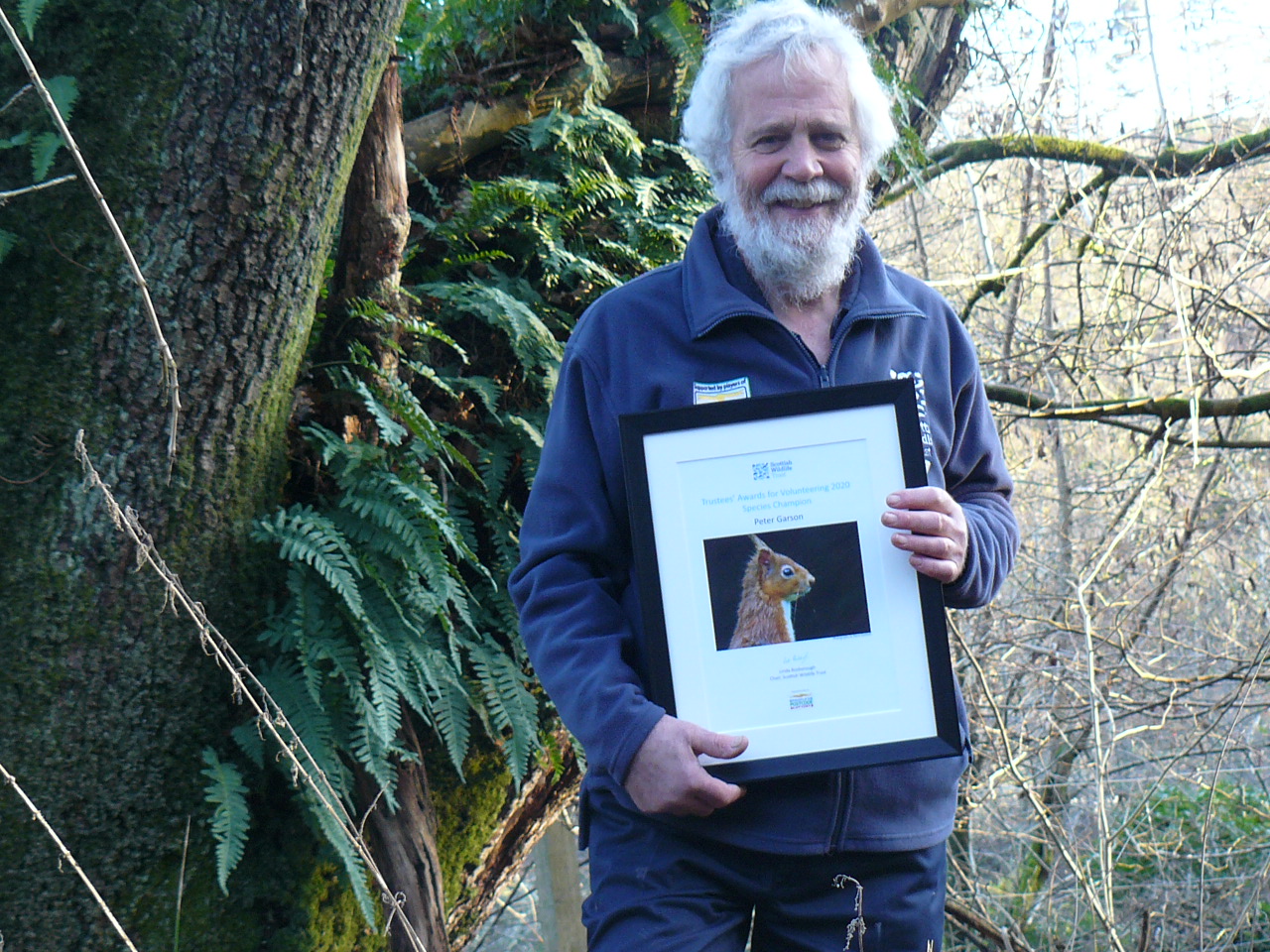 Peter comments "I am pleased to receive this award, alongside three other winners who have achieved great things in their own ways for SWT. To my surprise, I have now been involved with red squirrel conservation for three decades. It all started with a Newcastle University research project in Kielder Forest as part of the Red Alert North-East campaign coordinated by Northumberland Wildlife Trust. Coincidentally I was also involved for many years in running a voluntary international network, the IUCN Specialist Group for Pheasants and other gamebirds (around 300 species worldwide, of which 25% are on the Red List and threatened with extinction). As a university academic, I loved to hate committees, but I got plenty of practice! So, a combination of skills acquired 'on the job', happened to equip me well for my current role as a volunteer for the cause of red squirrels here. Within the network of networks that is the Red Squirrel Forum for South Scotland, there must be people with many different backgrounds and experience: teachers for all ages, website editors, social media advocates, community fundraisers, recruiting sergeants, etc. I hope my award inspires others to reflect on their own skills and seek to apply them energetically to red squirrel conservation, or indeed any other activity that helps to save our planet."
As Community Engagement Officer for the South West, I've had the privilege of working closely with Peter over the last year. Although he has been involved with red squirrel conservation for three decades, this year he really showed me what he's made of.
Despite difficulties such as localised squirrelpox cases and lockdown, Peter has been unwavering in his support for red squirrels and the people protecting them. His enthusiasm is infectious, his ability to find new solutions is amazing and his generosity in sharing his ideas with everybody so welcome!
Peter has definitely become a leading force in getting the squirrel volunteers of South Scotland united by making it simple for squirrel groups to communicate with each other. I am very much looking forward to what he comes up with next and I can't wait to work together to make it happen.
There are numerous volunteering opportunities in the South of Scotland and each and every person makes a difference whether helping spread the word through community engagement or undertaking grey squirrel control efforts. Visit our Network Directory to find out more about local volunteer groups near you.