The Scottish Wildlife Trust has awarded Saving Scotland's Red Squirrels volunteer Rob Asbridge the "Rusty Bog" Volunteer Award for all the hard work he has put into helping to protect the red squirrels in his area; including the construction of a community base and red squirrel hide for the local community to enjoy and value their local red squirrels.
Rob is the Chair of the Kirkcudbright Red Squirrel Group, which was formed in the early summer of 2018 to bring together local people keen to protect their local red squirrels.
The Group currently has around 30 members, who are kept busy with a number of tasks including survey work, habitat management, grey squirrel control and spreading awareness of the plight of the red squirrel by running educational events for families and children. They work in conjunction with the Barhill Community Woodland Project; a community initiative under the umbrella of the Kirkcudbright Development Trust, to improve the woodland for both people and wildlife.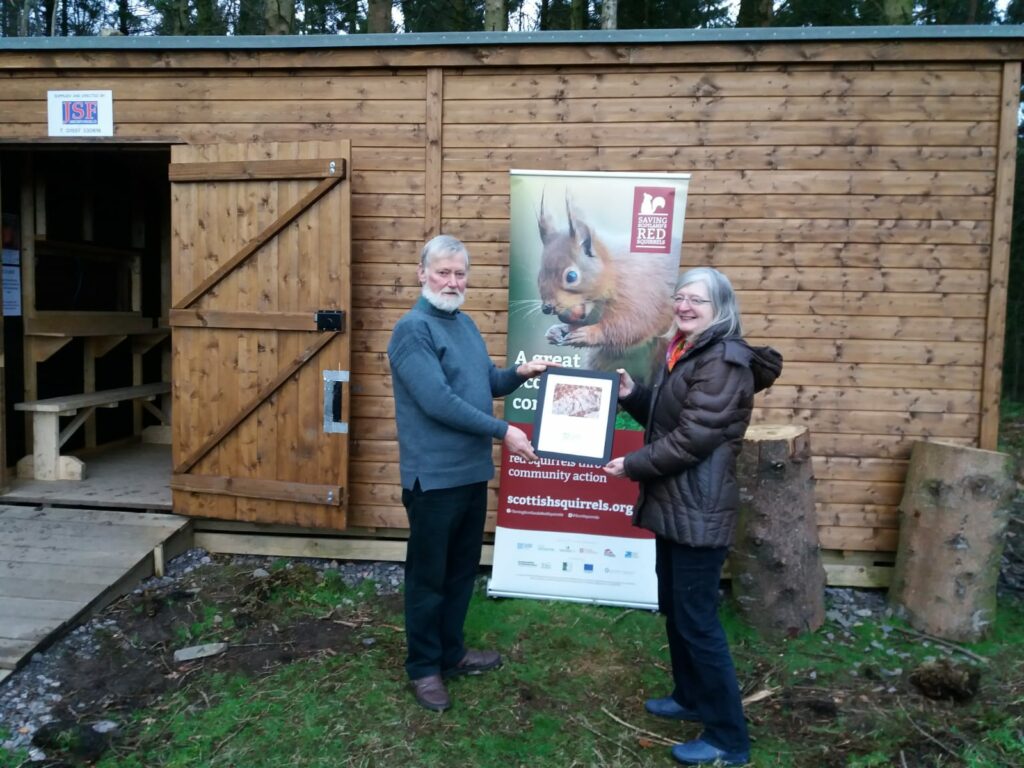 Rob arranged for a red squirrel hide and Community Base to be built in Barhill Wood, which overlooks the town of Kirkcudbright. It is hoped that this will raise awareness of red squirrels in the town and will encourage local children to get involved in the conservation of the species. The community base is open to all local community groups to use as a base for their own activities.
The hide can hold more than a dozen wildlife-watchers and boasts an 'infinity pool'; a raised shallow pool which allows photographers to snap charismatic photos of red squirrels around the pool, with their reflection in the water. The squirrels don't seem to mind all the attention they receive – they happily sit about a foot away from the hide's windows, munching on peanuts. Food is regularly provided for the squirrels, so there is no need to bring your own. Their diet is kept varied to keep them healthy.
The red squirrel hide is already proving a star attraction in Kirkcudbright, fulfilling another ambition of Rob's — to bring in more tourists to the town.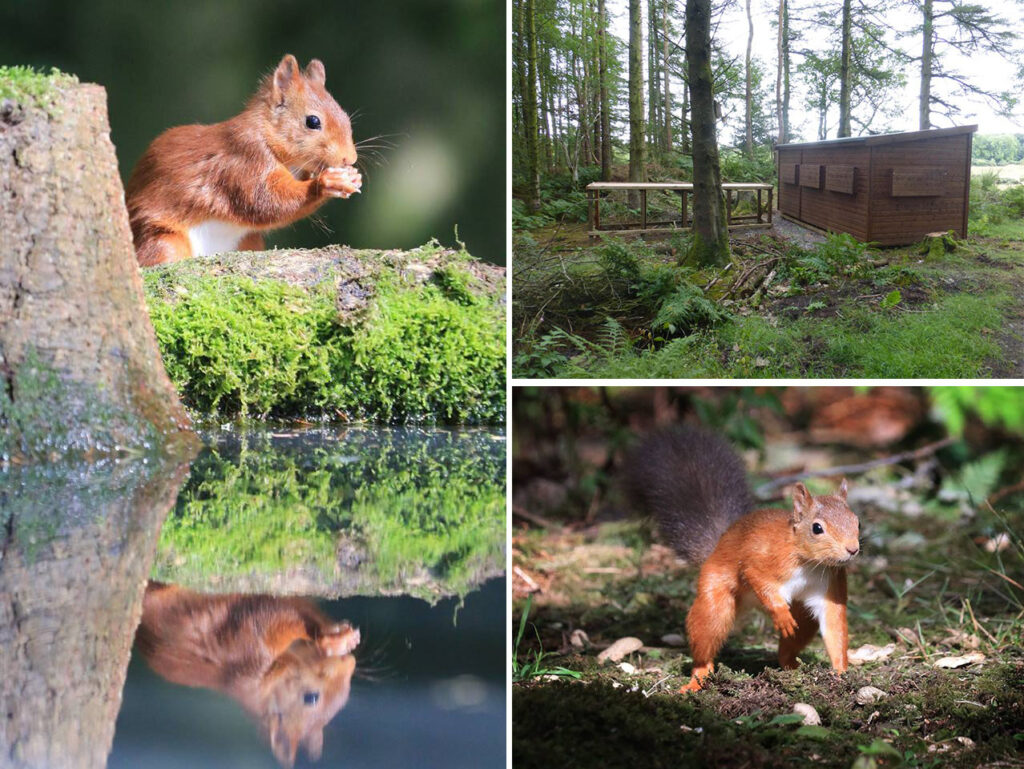 Rob says that 'the Kirkcudbright Red Squirrel Group's plan is to go on improving the habitat for red squirrels and to actively monitor their population in the area. Most children who have visited recently didn't realise they were there, so hopefully the work we're doing can inspire the next generation.'
If you would like to visit the hide for yourself, it is usually open from 8am every day until dark, when the hide is closed for the night. For more information and to check opening times on the day you wish to visit, please contact the Kirkcudbright Red Squirrel Group at kbt.squirrel@gmail.com
Sarah is the Community Engagement Officer for South West Scotland. If you would like to volunteer your time to help the Kirkcudbright Red Squirrel Group, whether you would like to assist with woodland surveys, administrative work or volunteering your time at events, please get in touch with her on 07342 035332 or by email at scooper@scottishwildlifetrust.org.uk