Original Author: Dr Stephanie Johnstone
One month on, Saving Scotland's Red Squirrels believe that the squirrelpox outbreak in Heathhall no longer poses an immediate threat to the local red squirrel population. However, we still need ongoing support from volunteers and the wider community.
Spotting a red squirrel on your morning walk should be something to get excited about, a sign that your local environment is providing for its native wildlife. So we were naturally concerned when we received reports that some of the red squirrels in Heathhall Forest, a popular community woodland outside Dumfries, were not looking well. The evidence we could gather all pointed to squirrelpox as the most likely cause.
You can read more about the situation and our initial response here.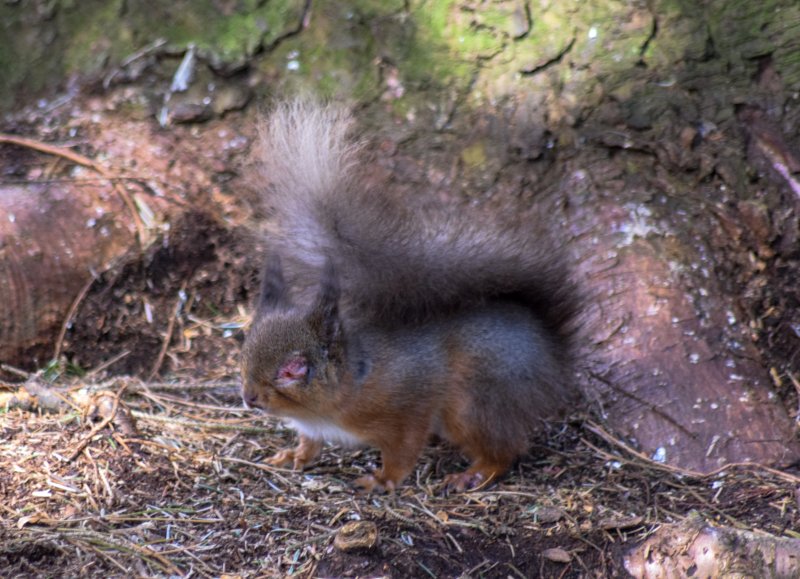 Our first action was to remove any feeder boxes that had been installed in the woodland, to reduce inter-species and intra-species contact and therefore reduce the chances of the disease spreading further.
We then set up live traps in the area with two aims. Firstly, we wanted to capture any infected red squirrels so that we could isolate those squirrels from the rest of the population and obtain pathology samples for testing. Secondly, we wanted to remove any grey squirrels from the area.
Fortunately, all the red squirrels that were caught (and released) appeared healthy with no signs of the disease. Although this meant we were unable to obtain a sample, it is a reassuring outcome. It suggests that the number of infected red squirrels was very small, and that the removal of feeder boxes successfully limited the disease to a small number of individuals and a localised area of the woodland.
Several weeks have passed now, and unfortunately it's most likely that the three infected red squirrels that were originally spotted have died. Squirrelpox is a particularly aggressive virus in red squirrels, and is normally fatal within two weeks. Although very sad for the individual animals, we are hopeful that no new sightings of sick red squirrels means that the outbreak has passed.
No grey squirrels were captured on site during our period of trapping. A predominantly coniferous forest, Heathhall is not ideal habitat for grey squirrels, and many locals were surprised to hear that there were any grey squirrels at all in the forest. However, greys are known to routinely pass through, visiting feeder boxes as they go, as we've had several sightings of greys from the forest reported by members of the public over the past six months.
Grey squirrels have also been reported in nearby areas of broadleaf woodland, and our follow up trapping in this more favourable habitat immediately to the north of Heathhall resulted in three grey squirrels being captured last week. Localised trapping in the broadleaf woodlands of Dumfries and immediate surrounds is currently ongoing.
We would like to thank the members of the local community who brought this to our attention, and worked so hard to raise awareness. We would also like to thank all the volunteers who are dedicating their time and skills to helping us manage the effects of squirrelpox across South Scotland. Without them, outbreaks like the one at Heathhall would be a far more common occurrence, and we wouldn't be able to implement such a swift and effective response.
Together, we can ensure red squirrels will always have a home in Dumfries and Galloway.
Things you can do to help protect red squirrels