Original Author: Alexa Seagrave
It's February and preparations are well underway for the 2018 squirrel survey. Conservation Officer Alexa Seagrave explains what the survey is all about and why spring is such a great time to get outdoors and look for squirrels.
Last week we published the results of our 2017 squirrel survey, with the good news that overall red squirrel populations in Scotland have stabilised. This is an incredibly encouraging outcome, as it shows that the work we're doing to protect Scotland's most threatened red squirrels is really making a difference.
However there wasn't much time to stop and celebrate as preparations for the 2018 survey are well underway. After weeks of planning behind the scenes, things properly kicked off when a team of volunteers visited our Edinburgh HQ to help prepare the packs that are sent out to each survey volunteer. Maybe not the most exciting task, but between all the cutting, sticking and folding there was plenty of cake and biscuits to keep us all going. Volunteers at Jupiter Urban Wildlife Centre also helped build 80 new feeder boxes to replace those that have become damaged or missing since last year.
Now we just need to fill the last few volunteering vacancies, check each of the survey sites, and we're ready to go!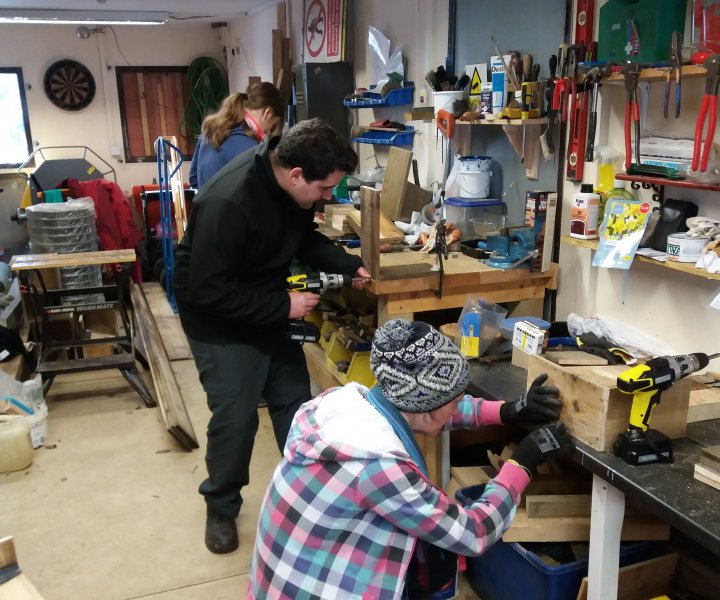 What's the survey about?
Since 2012, Saving Scotland's Red Squirrels has been conducting an annual survey in the areas where red squirrels are most under threat from non-native grey squirrels. The results provide us with a better understanding of where red and grey squirrels are on the map, and allow us to track changes in the populations of both species over time. This knowledge not only helps us measure the impact our work is having, it also helps us decide where to focus our efforts going forward.
The survey takes place between March and April and is carried out in 2km squares of woodland called 'tetrads'. Each tetrad contains four feeder boxes filled with bait ­— usually a mix of peanuts, sunflower seeds and whole maize. On the underside of the lid we've placed some sticky-backed Velcro. When a squirrel opens the lid to access the food, the sticky surface will pick up a few of its hairs.
A volunteer or member of staff visits each feeder box three times during the survey period. They'll refill the box with fresh bait, collect the hair sample and replace the Velcro tab. It's pretty straightforward!
The hair samples are returned to Saving Scotland's Red Squirrels for analysis. You would think this would be an easy task — surely red squirrel hair is red, and grey squirrel hair is grey? It's not that simple unfortunately. Red squirrels can vary in colour quite significantly, and grey squirrel hair is actually banded with three different colours: ginger, white and black.
The only way to know for sure is under a microscope. We look for tiny details like grooves and pattern of colour to correctly identify the species and determine whether a tetrad contains red squirrels, grey squirrels or both. All this information is then analysed so that we can say whether there's been a change over time.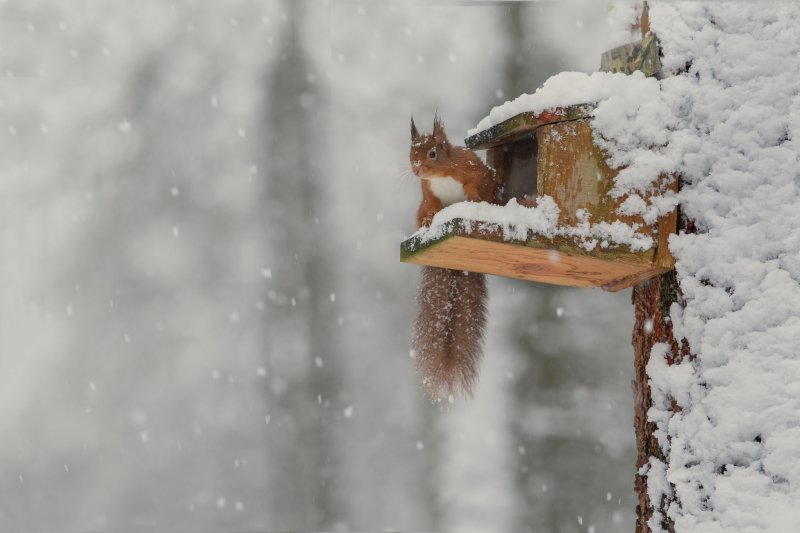 Why take part?
Volunteering with the spring survey is not only a great way gain some experience in carrying out survey work, it's also a good excuse to get outdoors at one of the best times of the year for spending time in nature.
Many of our survey sites are beautiful areas of woodland that are very rarely visited; unspoilt and full of things to see. I've walked through clouds of butterflies on a site near Dumfries, I've had close encounters with deer and of course I've seen red squirrels (and grey ones too!) You can do your survey visits at any time, so you can choose the days with the best weather for a pleasant walk in the woods.
Plus, you'll be taking part in a science project that is helping one of the most charismatic species in Scotland. Our volunteers get a copy of the spring survey report so you'll also get to find out what species of squirrel occupy your local area and how this compares to the rest of the country.
Get involved
Many of our survey volunteers have such a great time that they return year on year to take care of their patch. However we still have a few tetrads to fill in part of South Scotland: find out more on the Scottish Wildlife Trust website.
You don't need to be a spring survey volunteer to help us monitor squirrel populations in Scotland. We also collect red and grey sightings throughout the year, so why not treat yourself to a woodland walk and look out for squirrels at the same time?
Spring is great time of year to spot wildlife as the leaves haven't fully opened in the trees. It's also a particularly active time of year for red squirrels because they have their first brood of kittens to care for. If you're lucky you might see some mating chases too!
You can add your squirrel sightings (red or grey) to our map at any time of year.