Saving Scotland's Red Squirrels has published the results of its 2017 annual survey, which indicate that overall Scotland's red squirrel populations have stabilised, with significant gains in the North East.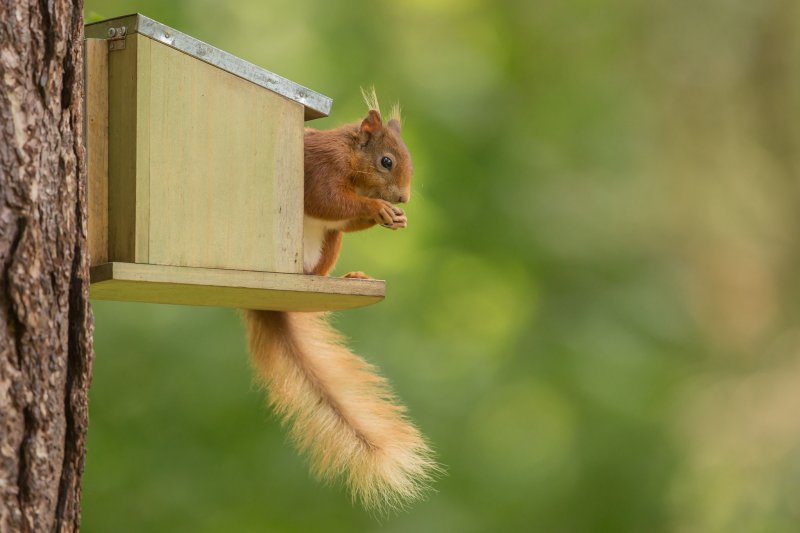 Since 2011, Saving Scotland's Red Squirrels has been monitoring squirrel populations in the parts of the country where red squirrels are most under threat from the spread of non-native grey squirrels. Grey squirrels, which were introduced to Britain from North America in the 19th Century, out-compete red squirrels for resources, and can also carry squirrelpox, a virus that doesn't harm them but is deadly to reds.
The 2017 survey results show that red squirrel populations have remained stable in the past year, a sign that with continued effort from conservationists and volunteers, their decline can be halted.
The most positive results were found in North East Scotland, where red squirrels have significantly increased their range, particularly around Aberdeen. This correlates with a recent flurry of red squirrel sightings reported increasingly close to the city centre.
In Tayside and the Central Lowlands, red squirrels have maintained their range, indicating that the project, which was awarded a £2.4m National Lottery grant last year, is successfully protecting Scotland's largest red squirrel population north of the Highland Boundary Line.
Mary-Anne Collis, Red Squirrel Conservation Officer for Argyll, the Trossachs and Stirling said: "In the Central Lowlands, red squirrels are holding their ground and as a result we've started to see them in areas where they haven't been seen for a long time. This is particularly noticeable to the south and east of Loch Lomond and the Trossachs National Park, which is now predominantly a red-only zone.
"If it wasn't for our fantastic volunteers that brave the unpredictable spring weather to help us with these surveys then we wouldn't be able to see the positive impact that our conservation work is having."
There were however more mixed results in South Scotland. While red squirrels have successfully maintained their range in most parts of the south, the survey produced no positive results in Berwickshire, where reds are now very rarely seen.
Dr. Mel Tonkin, Saving Scotland's Red Squirrels Project Manager said: "Unfortunately red squirrel numbers have continued to fall in parts of the Scottish Borders, especially since the arrival in Berwickshire of the deadly Squirrelpox virus from south of the border in 2011. However, there are still good populations of red squirrels from Galashiels and Jedburgh westwards, and Saving Scotland's Red Squirrels is carrying out conservation work aimed at safeguarding these squirrels.
"In Dumfries and Galloway, red squirrels continue to do well, but are threatened by increasing records of grey squirrels which appear to be spreading into Nithsdale from the east and north. It is vital that the work we do here is stepped up to make sure these red squirrel populations remain healthy."
Squirrel populations are surveyed using feeder boxes placed in the same areas of woodland each spring. When a squirrel visits a feeder box, a sticky tab collects some of its hair, which can then be identified under a microscope.
The project is currently recruiting volunteers in South Scotland to participate in the 2018 squirrel survey, which takes place between March and April.
For further information please contact Gill Hatcher, ghatcher@scottishwildlifetrust.org.uk