One year on from it's five-year Developing Community Action project, Saving Scotland's Red Squirrels detail key successes of red squirrel conservation work, and advise on essential actions needed to ensure long-term survival of the species in Scotland.
The final report of the £2.46 + million funded project, titled Saving an icon: Final report from the Developing Community Action Phase of Saving Scotland's Red Squirrels summarises the methods, achievements, challenges, and crucial lessons learned over the five-year nation-wide endeavour, and outlines recommendations to ensure a legacy of continued successful red squirrel conservation in Scotland into the future.
The project aimed to find sustainable and affordable ways by which to halt the decline, and enable reestablishment in some areas, of Scotland's red squirrels – which account for around 75% of the total UK population. Red squirrels are a protected species, but for many years have experienced declines due to the invasive non-native grey squirrel introduced to Britain from North America in Victorian times. Grey squirrels out-compete reds for food and living space and have rapidly replaced native red squirrel populations across most of England, Wales, and Scotland's Central Belt. Grey squirrels can also carry squirrelpox, a virus that doesn't harm them but is deadly to reds.
Since 2017 grey squirrel control and monitoring efforts have increased dramatically across Scotland with red squirrels remaining and gaining ground in significant areas. The recommendations detailed are founded on the work put in by staff, and on the considerable achievements of local communities, landowners, stakeholders, and the Scottish public to save Scotland's red squirrels from suffering a similar fate to those of England and Wales.
Regional:
Aberdeen and North East Scotland: a professional team must continue efforts to control and monitor grey squirrels in Aberdeen and the North East until eradication from this area has been achieved.
Central Lowlands: a professional team must continue efforts to control grey squirrels long-term across the Highland Line Control Zone to protect the red-only squirrel population of Scotland's Highlands.
Dumfries & Galloway and the Borders: grey squirrels should be controlled by volunteer groups covering the Priority Areas for Red Squirrel Conservation (PARCS) supported by staff and grey squirrel control professionals in areas less accessible to volunteers.
Other:
Data and Monitoring: the SSRS Community Hub, an online nation-wide squirrel distribution monitoring and management database and volunteer support system, should continue to inform the co-ordination of red squirrel protection measures.
The Scottish Squirrel Group – consisting of a wide range of government departments, agencies, and NGOs – should be reconvened to revise the national strategy for red squirrel conservation in Scotland, based on the findings of the report and success of the SSRS programme to date.
Full details of the successes of the project are outlined in the report. Key highlights of the Scottish public's contributions to red squirrel conservation include:
By the end of the DCA phase 18 volunteer led groups were operating successfully South Scotland, and by the fourth year the number of grey squirrels controlled by volunteers was greater than the number controlled by staff. In the Central Lowlands 46 landowners took part in grey squirrel control work via the Scottish Forestry's Forest Grant Scheme, and in the North East the geographically isolated grey squirrel population was significantly reduced in range and density partially due to over 70 homes hosting grey squirrel traps in their gardens. Additionally, the wider Scottish public contributed via the annual Great Scottish Squirrel Survey, with an average of over 1800 squirrel sightings reported between 2019 and 2021.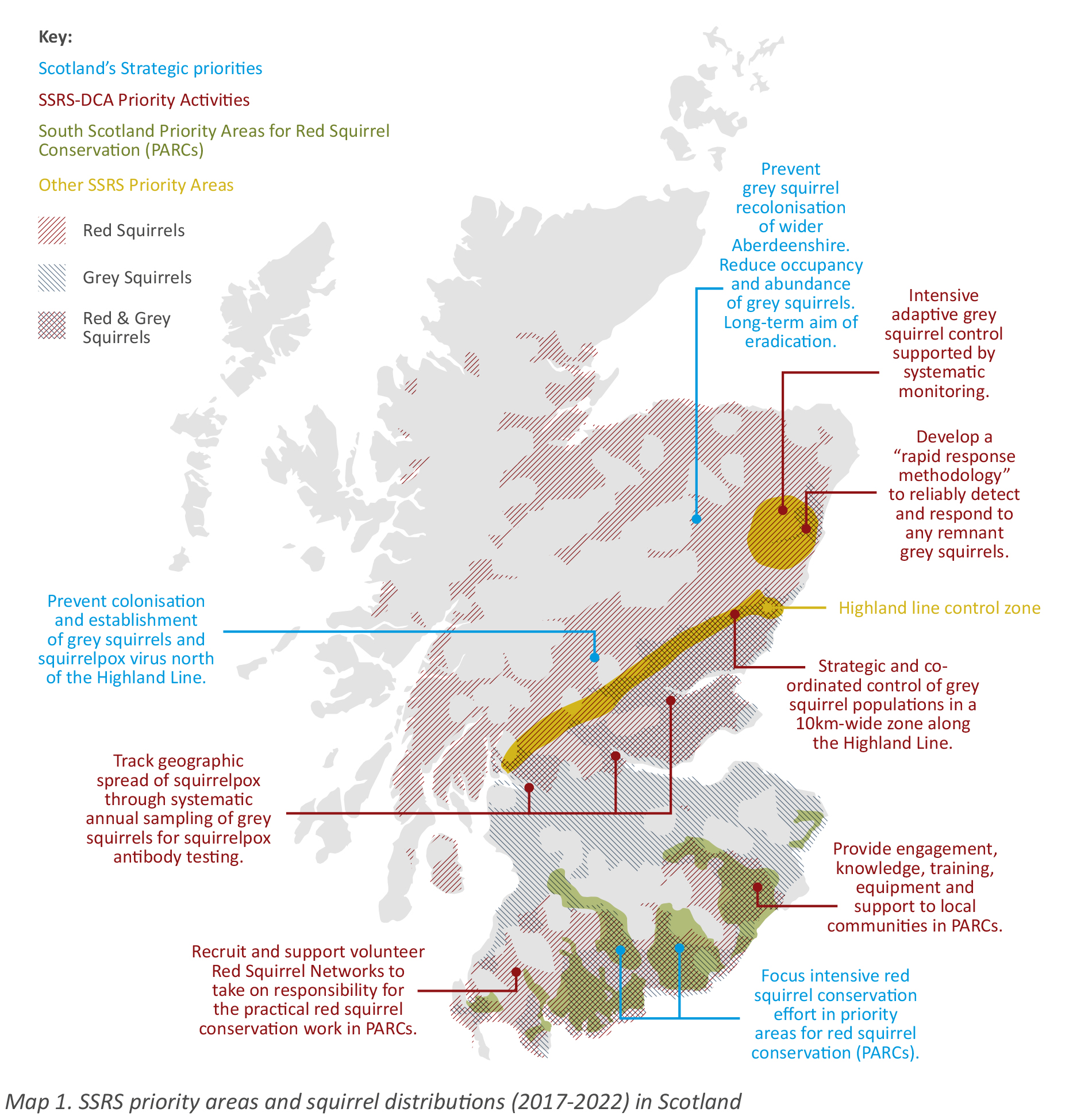 With only a year left in the current two-year Transition Phase of Saving Scotland's Red Squirrels, the outlined recommendations from the achievements and learnings of Developing Community Action need to be sustained if red squirrels are to continue to be a part of Scotland's native wildlife. This work needs to be further embedded in the operations of statutory agencies, local authorities, communities and other stakeholder organisations to form a landscape-wide mosaic of grey squirrel control and monitoring, ensuring that this vital work is sustained long-term.
Eileen Stuart, NatureScot Deputy Director of Nature and Climate Change, said: "The red squirrel is one of our most iconic species, and it's heartening to reflect on the progress that has been made through this project to protect and expand populations. It is particularly encouraging to see the number of individuals, communities and landowners who have volunteered their time to make a significant contribution to help protect Scotland's red squirrels.  NatureScot remains committed to ensuring the important work undertaken by Saving Scotland's Red Squirrels continues, and this project has demonstrated that a mix of voluntary and funded action can provide a sustainable long term future for this much-loved species."
Sarah Robinson, Director of Conservation at the Scottish Wildlife Trust, the lead partner on the project, said "It's fantastic to see the successes for red squirrels in Scotland due to the exceptional work put in by staff, landowners, and volunteers. It is essential now to recognise that this work needs to continue, and the recommendations detailed in the report are inputted into the delivery plans for the new Scottish Biodiversity Strategy to 2045."
Saving an Icon: Final Report from the Developing Community Action phase of Saving Scotland's Red Squirrels can be viewed at scottishsquirrels.org.uk/publications/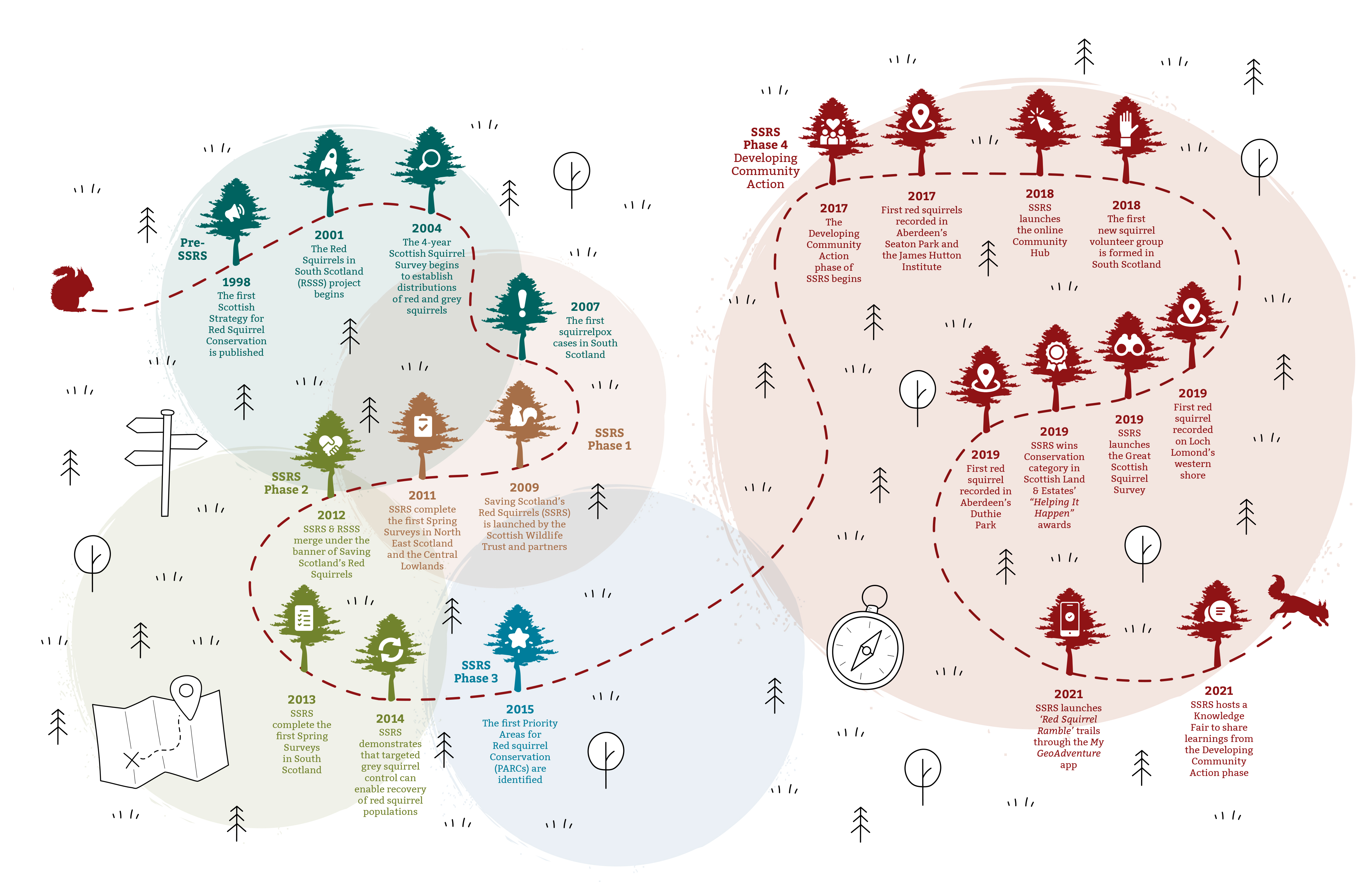 Saving Scotland's Red Squirrels is a partnership project led by the Scottish Wildlife Trust and supported by the Scottish Government and The National Lottery Heritage Fund, thanks to National Lottery players, along with other partners.
For further information please contact: Katie Berry, squirrels@scottishwildlifetrust.org.uk 0131 312 4717