Squirrelpox has posed a threat to native red squirrels in southern Scotland since the mid 2000s, and whilst targeted grey squirrel control efforts have been proven to slow the spread of the virus, they cannot prevent its spread – it is therefore important to be vigilant, informed and well prepared. Today we're taking a look at how monitoring efforts in the Central Lowlands can help to detect the early presence of squirrelpox, and how you can be proactive in reducing its impact.
Squirrelpox was first confirmed in Scotland in 2005, having spread from northern England through non-native grey squirrels that are able to carry the virus unaffected. When spread to red squirrels however, the disease is deadly and is invariably fatal within two weeks.
Just two years after the earliest evidence of the arrival of squirrelpox virus among the grey squirrel population of southern Scotland near Canonbie, red squirrels near Lockerbie succumbed to the first of several documented outbreaks of squirrelpox disease in the region's red squirrels, ranging from Gatehouse-of-Fleet to Sanquhar, Moffat, Langholm, the Rule Valley near Hawick and the Tweed Valley near Peebles. Thanks to a protection network of dedicated staff, landowners, local groups and volunteers, red squirrels are not only still found in these areas, but are thriving in most of them. Fortunately, an outbreak has yet to be recorded in red squirrels in the Central Lowlands.
If squirrelpox were to take hold in the Central Lowlands, the effects could be devastating. This would pose a threat to Scotland's core red squirrel populations in Argyll, Grampian and the Highlands should it breach the Highland Line into red territory that is currently free from grey squirrel competition.
So what are we doing to monitor the situation? Right across the Central Lowlands, project staff and volunteers have been taking blood samples from grey squirrels which are then tested for the presence of squirrelpox antibodies.
A very small number of grey squirrels have tested positive for squirrelpox antibodies between 2013 and 2020 in the Central Lowlands, the most northerly of which was at Plean, near Bannockburn. It is unclear how the disease arrived here, as we have detected no incidence between Glasgow and Bannockburn. When cases such as these are detected, we generally test a much larger sample of grey squirrels, to determine how prevalent the disease is in the local population. Only a very small percentage tested positive of a large sample of squirrels , suggesting the disease is not actively circulating among grey squirrels, and the risk to reds is low.
So far we have found that the virus is only detectable in about 10% of our Plean samples, and in 2019 we were unable to detect any incidence in the Plean area. In most of the locations we have detected squirrelpox antibodies in grey squirrels in the Central Lowlands, there have been no red squirrels in the nearby landscape to be at risk from disease. If the virus continues to spread through the grey squirrel population of the Lowlands however, it will eventually arrive in areas where red squirrels thrive. By testing we can forewarn people living in those areas, which may give them time to organise some protection for local red squirrels.
Landowners, volunteers and members of the public can keep vigilant for sick red squirrels
In order to be able to do that, you'll first need to know how to recognise the symptoms of squirrelpox disease in red squirrels. The virus produces weeping lesions around the eyes, nose, mouth, ears, feet and genitalia. Overall, the infected red squirrel will appear noticeably unwell, being lethargic and unable to feed properly.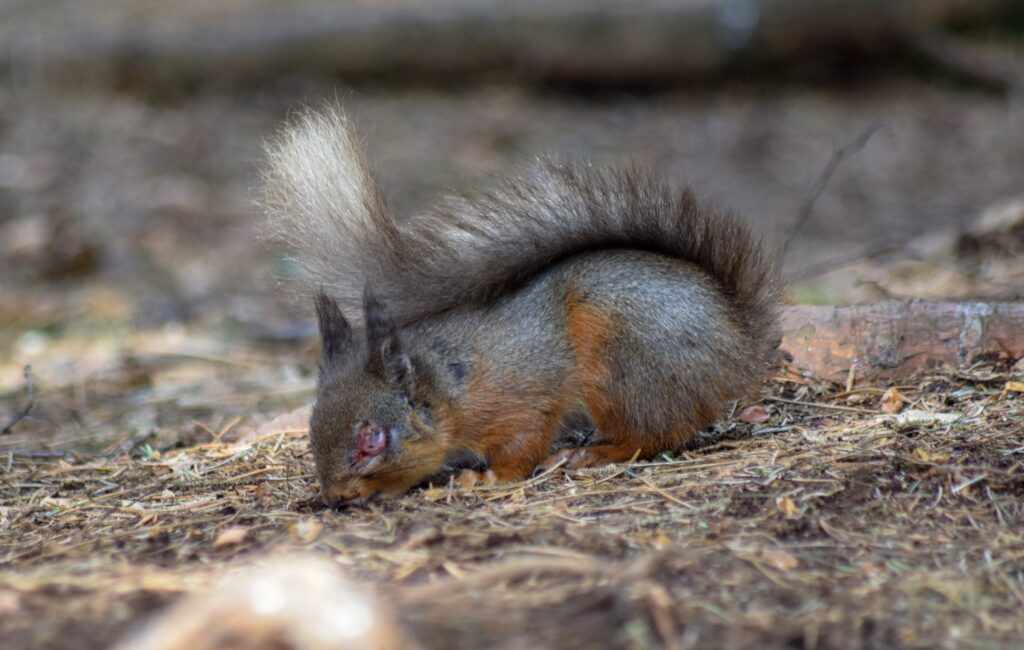 If you suspect a red squirrel may have squirrelpox, please contact us directly. Photographs can be extremely helpful in assessing symptoms.
You can help reduce the spread of squirrelpox and other infections by ensuring wildlife feeding equipment is regularly disinfected, and by removing any feeders visited by both red and grey squirrels in the event of a disease outbreak. We recommend an anti-viral solution such as Virkon-S.
Squirrel sightings also have an important role to play in monitoring distribution changes over time and assessing areas where both red and grey squirrels come into close proximity. Sightings of both species can be reported through our website at https://scottishsquirrels.org.uk/squirrel-sightings/.
And finally, landowners can support the projects control work, by granting access permission for grey squirrel control and blood sampling work to be carried out.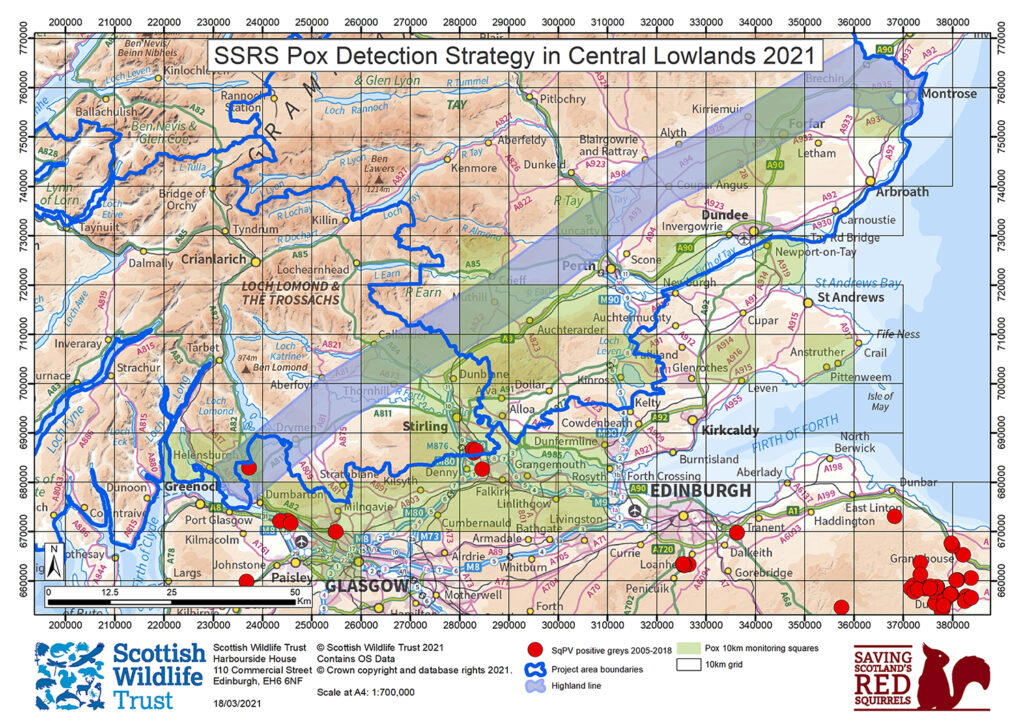 Those living along the Highland Line priority area can also join our Trap-Loan Scheme with the aim of helping to maintain low grey squirrel densities to keep the habitat available for red squirrels and, in the longer term, reduce the rate of transmission of the virus.   
If you are interested in getting involved to help slow the spread of squirrelpox, please get in touch, or read our Squirrelpox Action in the Central Lowlands Toolkit for more information.  
Read the full report: Squirrelpox Detection in the Central Lowlands 2017-2020