This week Royal Bank of Scotland unveiled the design of its new polymer £20 banknote, which will be in circulation from 2020.
The note's front side features famous Glaswegian tearoom owner and Mackintosh collaborator Catherine Cranston. It's great to see Miss Cranston receive well-earned recognition as a pioneer of female entrepreneurship, the first woman other than the Queen to appear on a Scottish twenty.
However it was the note's other side that we were keenly awaiting here at Saving Scotland's Red Squirrels. The design is part of the RBS 'Fabric of Nature' series, which began in the sea (£5, mackerel), moving on to the coast (£10, otters), and is now heading into the forest.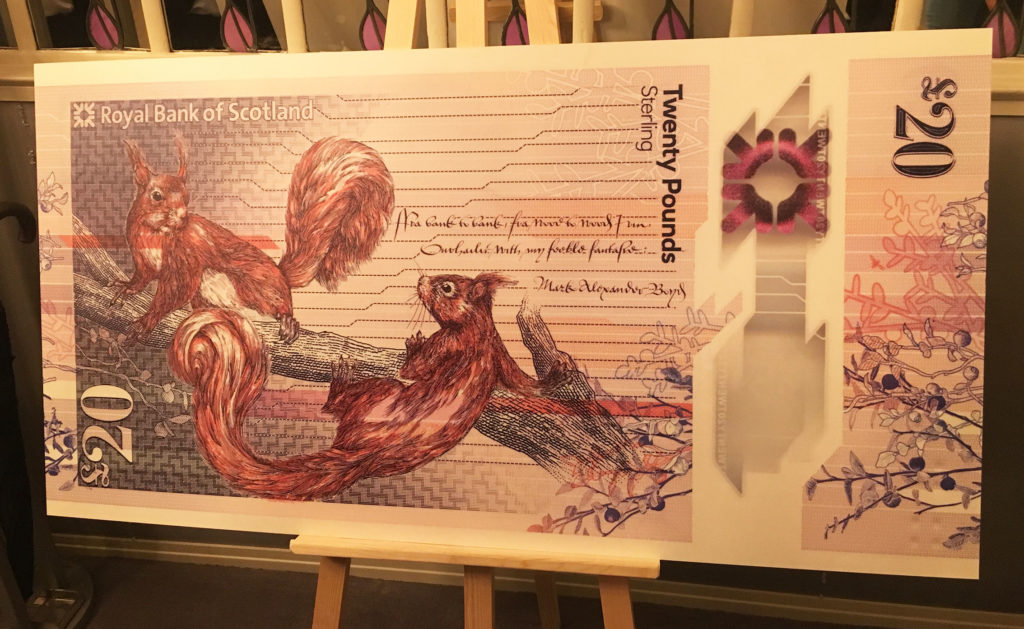 A few of us had known for a while that red squirrels would have a starring role in this design. Our Project Manager Dr Mel Tonkin provided the design team with her red squirrel expertise, helping to create an image that was scientifically accurate while maintaining its illustrative charm. Of course, this whole process had to be kept top secret!
The scene depicted on the note will be familiar to anyone who is lucky enough to have red squirrels regularly visiting their garden: a spiralling mating chase, most often seen in late winter or early spring. Mel was particularly keen that the squirrels' claws were given some attention to detail, highlighting their perfect adaptation to life in the treetops.
The red squirrel has come to be regarded as a quintessentially Scottish creature. Although the species' future in Scotland remains under threat, Scotland's people clearly have a lot of affection for their native reds. Choosing to feature them on our country's money feels like a solid statement – the red squirrel belongs in Scotland. We also hope that having this iconic species in people's wallets, pockets and purses will serve as a friendly reminder that continued conservation effort is essential for ensuring they will always have a home here.