By Andrew Vickery and Brian Fishwick
1-7 June is Volunteers' Week, a chance to say thank you to the hundreds of volunteers who make saving Scotland's red squirrels possible. We asked two of our spring survey volunteers to tell us more about their experience, including the highlights (and challenges!) of monitoring squirrel populations in Scotland.
Helping red squirrels to hold their own
I've been a volunteer with the project for about 7 years, the spring survey being my main activity. The initial interest for me is the anticipation of lifting the lid on the feeder boxes to see if there have been any visitors, and to wonder at the ingenuity of squirrels in working out how to get at the food inside, but I love being outdoors anyway and the survey gets me into the woods at a lovely time of year. The new growth underfoot and in the trees is an attraction in itself and the birdlife is always interesting – woodpeckers in particular in one of the woods I visit. I have enjoyed being in places I might otherwise never have visited without being involved in the survey, sometimes alone, sometimes answering questions from passing walkers interested in what I'm doing.
One highlight was when I'd just filled a feeder box and was bending down to pick up the container of squirrel feed – to spot a red squirrel some two feet away, eyeing up the container at close quarters, then eyeing up me and deciding to head for the feeder box instead. Another was a close encounter with a stoat who was taking a great interest in what I was doing.
I've taken part in other aspects of the project too— hair examination in the lab, helping out at information events, some culling of grey squirrels, even some blood sampling (not everyone's cup of tea but extremely interesting). As a volunteer, the great thing about this project is that I can take on as much or as little as I want and I can do it in my own time, at my own pace and with good support.
The ultimate reward is when someone tells me they have seen a red squirrel for the first time in many years. To see these lovely little animals holding their own in the face of the problems caused by their grey American cousins is pleasing, and to know that I've played a very small part in the effort to protect them is extremely satisfying.
Andrew Vickery, Scottish Borders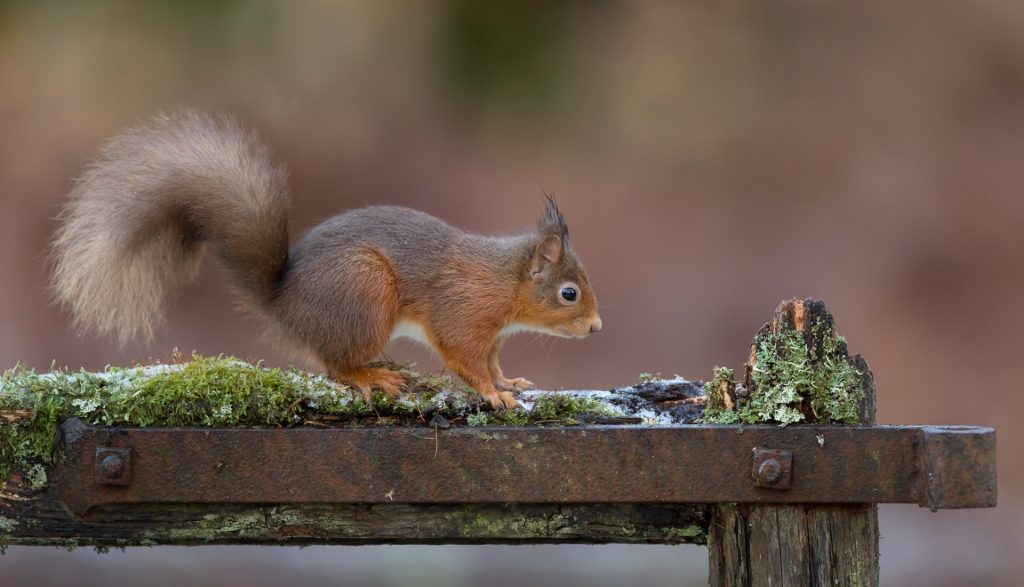 The trials and tribulations of a spring surveyor
I wasn't going to undertake any spring surveys this year. I spend enough of my time trapping and shooting our grey invaders, but guess what— I ended up setting up seven surveys!
Three for me to monitor, two to help a colleague who missed the start while sunning himself in foreign places, and two to show a new volunteer the ropes and assist him finding the feeders with use of my GPS.
A challenge with the spring survey can be gaining access. For example, the two survey sites for our new volunteer are a really nice and easy drive along a wide forest track. The GPS beeps, and there is a feeder, right next to the truck door. A couple of steps and job sorted, dead easy. The problem is, I had to make a detour of approximately 18 miles each way due to a locked gate! For another survey site I clocked up five miles of walking and that was after using my truck as much as possible (I know, it's good for me).
At another survey site the forest has changed so much due to substations and so on, that it was start-again time. This also happened at the site surveyed by my colleague. Already delayed by snow, we ventured into the forest and located the feeders easily. A quick disinfect then… hang on, this one has hens eggs in it? Someone obviously trying to attract a pine marten, but no sign of a trail cam. Then, a few days later, he received an email advising him the whole area was to be harvested in a few weeks' time! In these cases we need to set up a new tetrad and relocate the feeders.
Add on all the sliding down steep banks, jumping drains, fighting my way through overgrown conifers and turning up at a site to find all the trees have been harvested…but I wouldn't swap it for anything!
Brian Fishwick, Glenkens Red Squirrel Group, Dumfries & Galloway
We are hugely grateful to all the volunteers who donate their time, skills and energy to helping protect red squirrels in their local area. Whether scrambling through woodland or sitting at a computer, we are all working towards the same goal – to ensure red squirrels will always have a home in Scotland.
If you would like to know more about volunteering with the project, visit our Get Involved page.