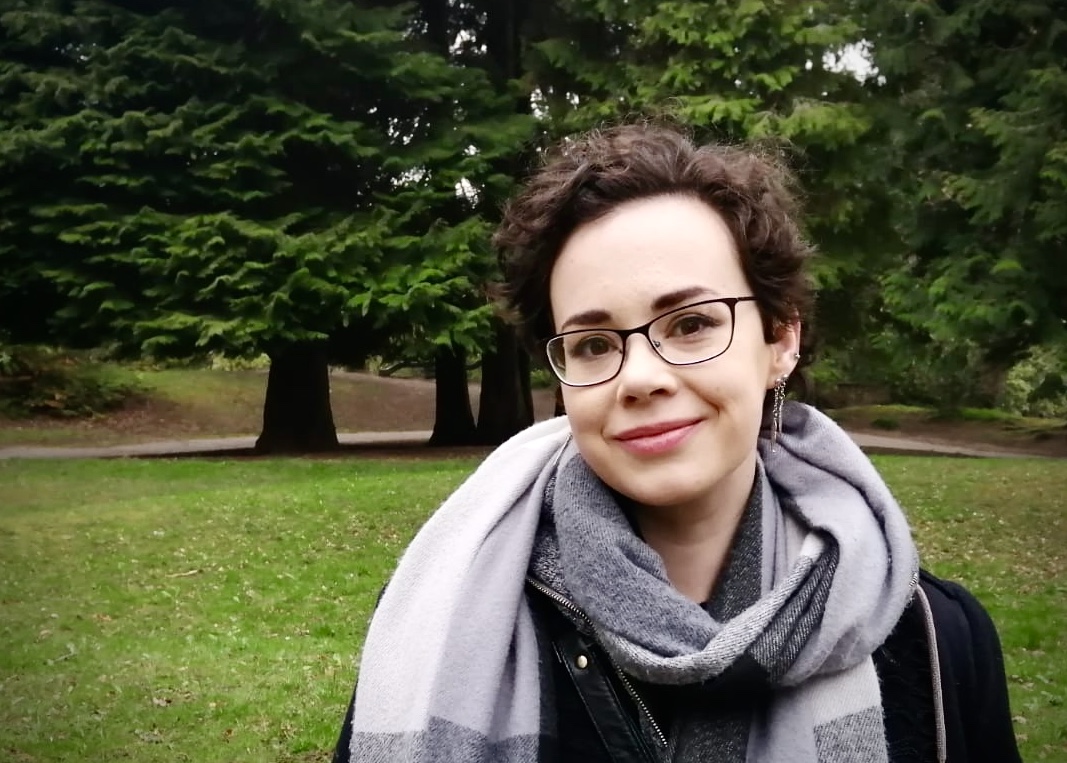 Charity Trees for Life has been working since 1993 to restore previously lost native habitats and species to the Scottish Highlands. Since 2016 their Red Squirrel Reintroduction Project has worked to help red squirrels repopulate areas where they had previously gone extinct, translocating more than 200 red squirrels to 10 new areas in the northwest Highlands, creating thriving new populations. We sat down with their Project Manager, Sarah Woodfin, to find out more about the work of the project:
Can you tell everybody firstly about your background, and what led you to your current role with the project?
I have spent the past four and a half years working with red squirrel conservation projects. I have an undergraduate degree in ecology and a masters in conservation biology and most of my work and interests have been with small mammal ecology and conservation. I have worked with a range of animals, from native mice and voles to species of rabbit found in south-east Asia. I began working with red squirrels in 2019 as a monitoring and control officer for the Saving Scotland's Red Squirrel Project and I worked with this project for four years. In March I joined Trees for Life to work on the red squirrel reintroduction project.
What are the main aims of the Trees for Life Red Squirrel Reintroduction project?
The Scottish Highlands hold the largest remaining population of red squirrels in the UK. However, red squirrels were still absent from much of their former range across the north-western highlands. Trees for Life aims to create 14 new reintroduced populations of red squirrels in the area, with 10 of these already carried out and doing well. It is aimed that by the end of the project, all possible suitable sites for reintroductions will have had red squirrels reintroduced and that we will carry out monitoring of the entire highland red squirrel population to know the current spread of the species.
Why is it so important to carry out the work the project is undertaking?
As habitat has been restored to the north-west coast following deforestation in the past centuries, it is important to restore the red squirrel to their native range where possible. Red squirrels are an important native species and have benefits for forest health. There are limited natural corridors of woodland leading from the central highland woodlands and red squirrel populations to the north-west highlands, so it would be difficult and unlikely for red squirrels to easily recolonise these areas without help. Also, restoring red squirrels to these north-western, more remote areas, creates additional populations that are further geographically removed and isolated from the threat of the invasive grey squirrel and the fatal squirrel pox that they carry.
Can you tell us a little bit more about the process of creating these new populations and reintroducing red squirrels to new areas?
Our work would not be possible without the assistance of landowners, who are often extremely keen to get red squirrels returned to their land. Firstly, the proposed reintroduction area must be assessed for suitability of red squirrels, such as forest cover, species and connectivity. Stakeholders and the wider community are consulted as much as possible and are often involved in monitoring the red squirrels following the reintroduction. Red squirrels are sourced from healthy populations in Moray and Inverness-shire where densities are very high, with only 2 red squirrels being taken per 200 ha. These squirrels are health checked before being transported to the release sites, with up to 30 squirrels being released in each reintroduction. The red squirrels are released and supplementary fed for the next 6 months and monitored to ensure that they settle into the new areas.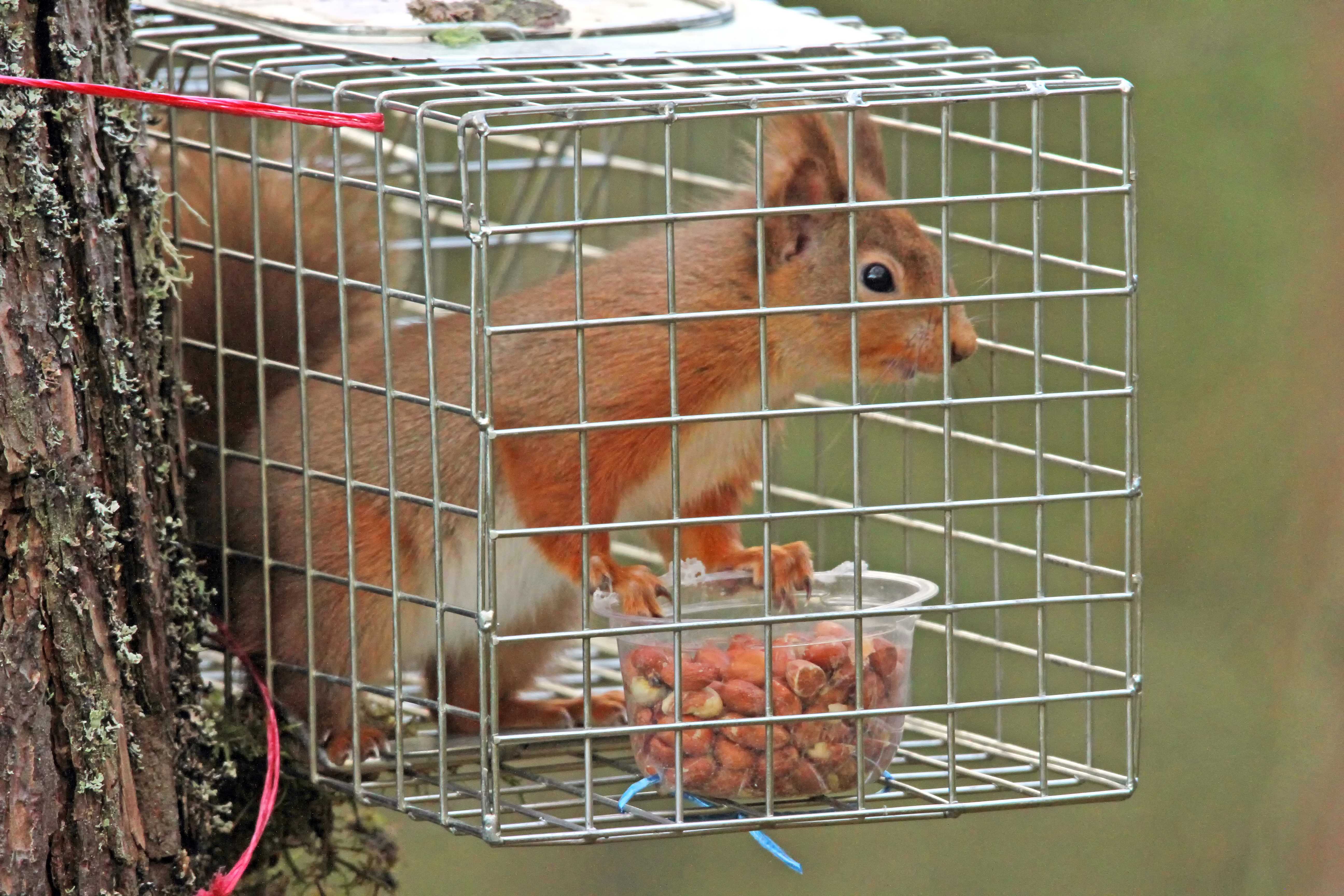 How do you choose which sites would be suitable for the translocations?
Each reintroduction site must ensure that there is plentiful suitable habitat for the translocated red squirrels. This means that there must be abundant good tree cover and of a mix of species that are favourable to red squirrels, providing plenty of food and places to drey. We look for species such as scots pine, oak, hazel, chestnuts, larch or others that provide benefits for squirrels, while avoiding areas with primarily sitka spruce as it can only support a low density of squirrels, or birch, which provides neither food nor cover for red squirrels. There must be a minimum of 180 ha of good, connected woodland for a reintroduction of red squirrels to be undertaken. It is also beneficial if there are further habitat corridors to further woodlands and the potential for red squirrel populations to join and merge.
What have some of the greatest successes of the project been so far?
All ten of the reintroductions have been successful, with red squirrels breeding and colonising available surrounding habitat. They have been known to travel far distances from the release sites – up to 17km away. Populations have begun to join, such as the red squirrels between Plockton and Attadale. The most recent reintroduction to Golspie has been very successful, with the red squirrels colonising the woods surrounding the town and spreading north and around Brora and inland. It is hoped that these squirrels will also colonise to the south and join with the reintroduced population at Spinningdale.
What activities and actions will you be working on next?
We are currently in the process of setting up our next reintroduction of red squirrels to the west coast, where we will be creating a new population at Arisaig. The following spring will have a booster reintroduction to the Morvern peninsula, to top up and encourage the spread of the previous reintroduction there. The final two release sites are yet to be officially decided. Over the past year, we have also been working on an up-to-date survey of the distribution of red squirrels across the highlands, which should be published shortly.
Finally, if people are interested in getting involved with red squirrel conservation efforts with Trees for Life, what opportunities are there and how should they get in touch with you?
If people would like to get involved, either by taking part in our reintroductions by monitoring feeder boxes or if they have woodland in the north-west highlands that may be able to support a population of red squirrels, they should contact us initially at hello@treesforlife.org.uk. They should also send in any sightings of squirrels in the highlands to Saving Scotland's Red Squirrels hub and encourage their friends and family to do the same, as this helps us to monitor our red squirrels.