After years of carefully targeted grey squirrel control, we were excited to hear that a red squirrel has been spotted in Luss. It's a sign that our native reds are beginning to make a comeback on Loch Lomond's western shores.
Luss Estate is a nationally important area for red squirrel conservation because it sits on the Highland Boundary Fault line, where the grey squirrels of the Central Belt meet Scotland's core red squirrel populations in the Highlands. It's therefore crucial that we prevent the greys from spreading any further north, and that their numbers are reduced to allow nearby red populations to recolonise the area.
Our data shows that red squirrels completely disappeared from Loch Lomond's western shore except for a small enclave at Tarbet, while grey squirrels have been well established in the Luss area for over a century. Thanks to the efforts of Luss Estate, other private landowners and Saving Scotland's Red Squirrels project staff and volunteers along the western shore, it looks like the tide is beginning to turn. Now that one red squirrel has been spotted in a Luss resident's garden we're hoping we'll see many more red sightings popping up on our sightings map in the months and years to come.
Change is also happening in other areas to the west of Loch Lomond. Last week Arrochar resident Fiona Jackson reported seeing a red squirrel in her garden for the first time ever! Local volunteers have been contributing to our grey squirrel control work in the area, so it's great to see their efforts finally paying off. One of the long-term goals in the Loch Lomond and the Trossachs National Park action plans, including 'Wild Park 2020', is working towards a long-term goal of maintaining the whole area as a 'red-only' zone.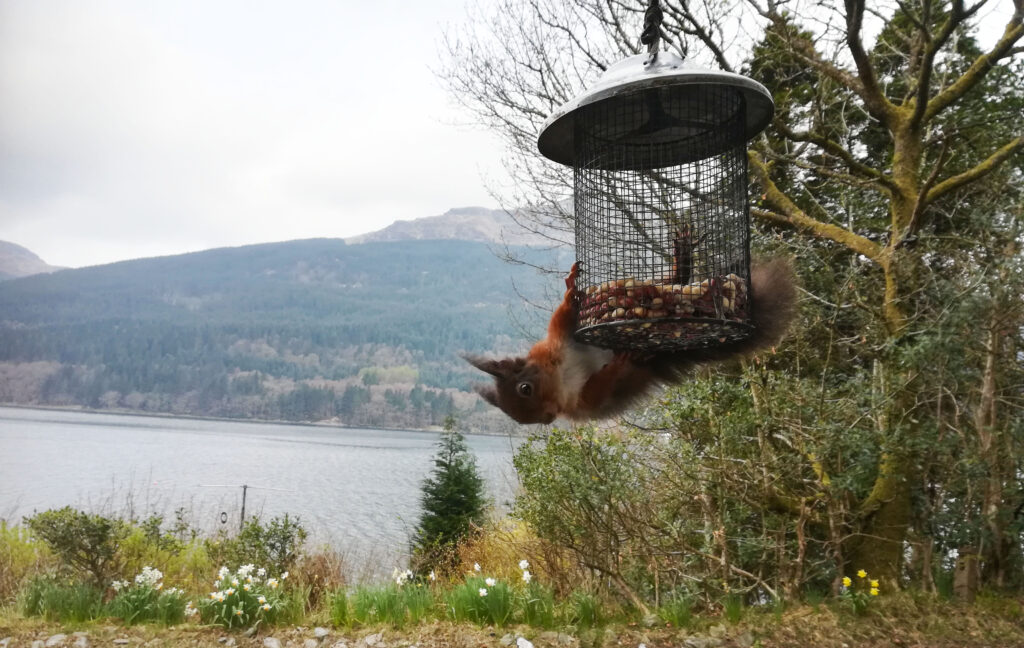 These recent sightings are a reason to celebrate, but continued conservation effort will be essential to ensure this trend continues. To keep up momentum and ensure our work is as effective as possible, we need more detailed information on what's happening on the ground. Whether you're a local or a visitor to the National Park you can help by reporting any sightings of both red and grey squirrels via our online sightings form.