Original Author: Mary-Anne Collis
Did you know that next week is Red Squirrel Week? From 24 September – 1 October Loch Lomond & the Trossachs National Park will be celebrating one of Scotland's favourite animals, and raising awareness of the work that's being done to protect them. Of course we wanted in on the action!
Saving Scotland's Red Squirrels has teamed up with various partner organisations in and around the National Park to bring you a week of red squirrel-themed guided walks, talks and family activities.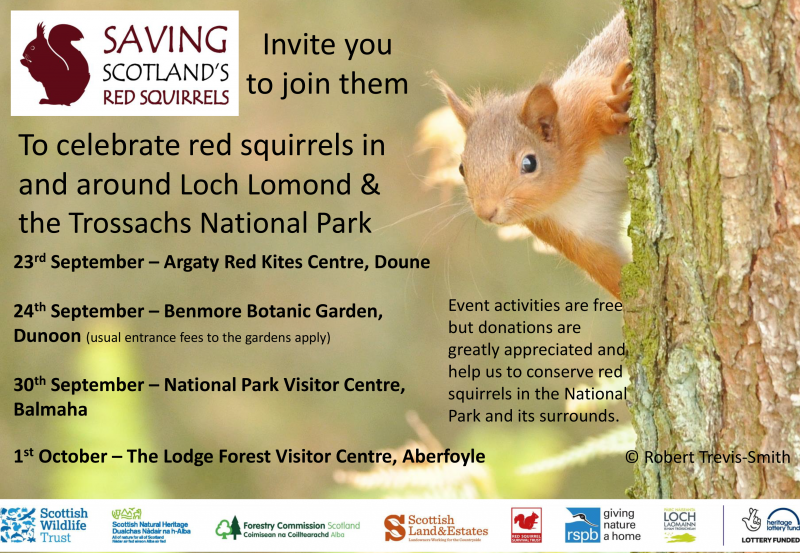 The National Park still has a strong population of red squirrels and is a great place to get out and see them for yourself. Autumn is a particularly special time, as red squirrels frantically scurry around, taking advantage of the bountiful food supply that the National Park has to offer at this time of year. Keep a lookout on the forest floor for red squirrels burying their hoard in preparation for the coming winter months.
While the National Park can provide the perfect home for them, the red squirrels that live here are under continuous threat from grey squirrels moving increasingly northwards. As well as out-competing reds for resources, some grey squirrels in the central belt are known to carry squirrelpox, a virus that doesn't harm them but is deadly to red squirrels.
This is why the National Park has included red squirrels in its 'Wild Park 2020' challenge, and is working with Saving Scotland's Red Squirrels to ensure these iconic creatures continue to thrive here.
Come along to one of our Red Squirrel Week events to learn more about how Saving Scotland's Red Squirrels is working in and around the Loch Lomond & the Trossachs National Park, and find out how you can get involved in your area.
23 September, 10am – 1pm: Argaty Red Kites, Doune
24 September, 11am – 4pm: Benmore Botanic Garden, Dunoon
30 September, 10am – 4pm: National Park Visitor Centre, Balmaha
1 October, 10am – 4pm: The Lodge Forest Visitor Centre, Aberfoyle
For more information, visit our Facebook event page or contact Mary-Anne Collis: mcollis@scottishwildlifetrust.org.uk