Community Hub FAQs
---
General Troubleshooting
---
I cannot access my Hub account
If you cannot access your Hub account consider these options:
Incorrect username / password Your username will be the single word (no spaces) name you entered when you registered with the Hub. The email address you registered with can also be entered as a username. If you have forgotten your password please click the 'forgot password' button and check your email (and junk folder) for a reset link.
Unactivated account When you register with the Hub you must activate your account so we can be sure it was really you who signed up. You will have received an email with an activation link – please check your junk folder.
How do I change my password?
1. Click 'My Account' and then select 'My Profile' from the dropdown:

2. Once you are in your profile, click the 'Settings' tab and enter your current password followed by a new password of your choosing: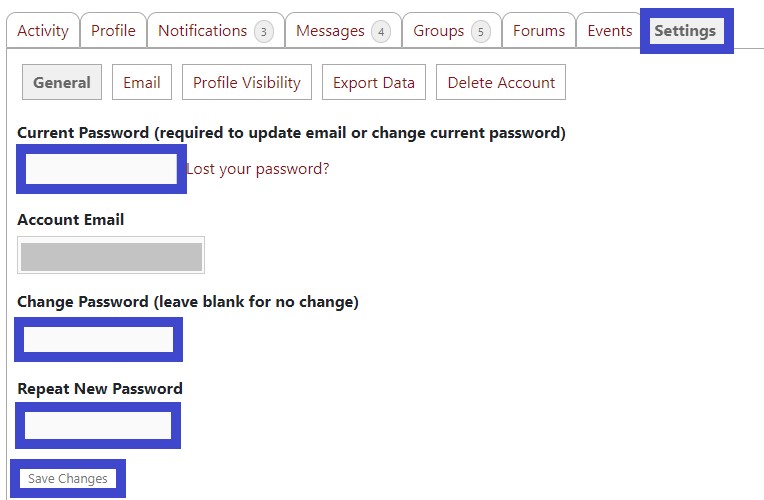 How do I update my profile?
1. Click 'My Account' and then select 'My Profile' from the dropdown:

2. Ensure 'Profile' is selected on the top-tab, select 'Edit', then click 'My Volunteering Details':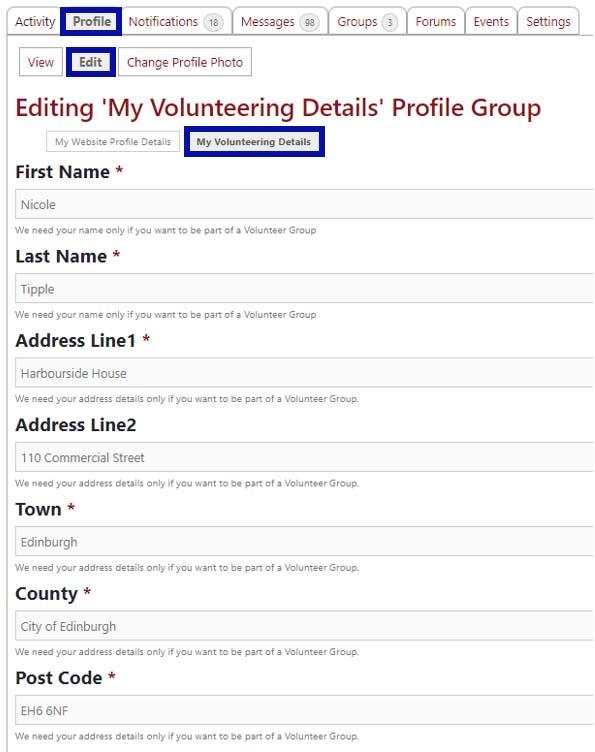 Note: if you wish to join the SSRS volunteering group (for registered volunteers) you will be prompted to complete your full volunteering profile. If you are volunteering with an independent network in the south of Scotland you do not need to join this group or complete these details, but providing a postcode will help your group to coordinate activities.

The Hub is not working
Make sure your web browser is up-to-date
Try clicking Ctrl + F5 to hard refresh the page
South Scotland volunteers…
Can the Hub be used from a mobile?
Yes, when connected to WiFi or data roaming, all the usual functionalities of the Hub work on a mobile, including viewing your sightings or reporting a new one, and inputting your data.
Volunteer FAQs
---
How do I sign up as a volunteer on the Hub?
Click the Hub Login box, then click Register
Once registered, login with your details
Sign up as a volunteer by following the steps in this video (especially at the beginning and at minute 01:58).
Find your group's homepage and click 'Join group' to send the request. The group Hub Admin will accept you in.
Can I set up a joint account on Hub e.g. Mr & Mrs Brown?
We advise that you each have you own individual account on Hub, you may have different volunteer roles and we need to sign you up and ensure you are covered under the Trust's insurance individually. You will also need to use different email addresses.
Does joining the Hub cover me under Scottish Wildlife Trust insurance?
No, but the processes go side by side. You will be covered under the Trust's insurance when you complete the registration form, which you will receive directly from an SSRS staff member.
In order to:
enter your trapping or survey data, training or volunteering hours
to view local sightings and data from other group members
to keep in touch and up to date with your group's activities
you must be signed up as a volunteer on the Hub and have completed all the sign-up steps above.
Volunteer Network FAQs
---
Can I join my local group without signing up as a volunteer?
Yes, you can join your local group without registering as a volunteer, but you can't join the survey or control groups without registering as a volunteer first, so you won't have access to any survey data or control data.
Does the group map show sightings from the current year?
Yes, your group's map shows sightings from the current year (starting in January), and you can filter for the years with the dropdown above the map. On the other hand, the map on the public SSRS homepage shows national sightings from the previous 12 months.
What does the map Layers button do?
On the group homepage map, the Layers button allows you to add different datasets to the map, including red and grey squirrel sightings and control data, as well as your network boundaries.
How do we link our group page on the SSRS site to our Facebook group?
The Facebook icon in the top-right of the website is part of the template for the whole site and cannot be changed for each group page. You can add a link to the description in your group's public and private homepages.
More information
---
If your query isn't answered on this page, the links below provide more detailed help:
If you still have problems, contact squirrels@scottishwildlifetrust.org.uk or your Hub Admin if you are part of a Volunteer Network.